Beauty & Self
Books & Music
Career
Computers
Education
Family
Food & Wine
Health & Fitness
Hobbies & Crafts
Home & Garden
Money
News & Politics
Relationships
Religion & Spirituality
Sports
Travel & Culture
TV & Movies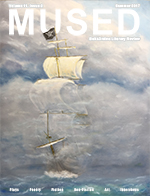 Our time on this Earth is fleeting and precious. We often know that in a vague, intellectual sense, and yet we can find ourselves whittling away those finite minutes without mindful thought. We should celebrate the beauty in a child's smile. The radiant sound of saying "I love you" to that special person. The warm touch of a hand. The delicate scent of a wildflower.

Enjoy the Mused Summer Solstice 2017 Issue



Pesticides Hurt Sperm
Infertility - Hannah Calef, Editor

Consuming a higher pesticide load may reduce male fertility




Thunderheart and The Activist Film Reviews
Drama Movies - Angela K. Peterson, Editor

"Thunderheart" and "The Activist" are political thrillers that also comment on the stereotyped view of the American Indian in Hollywood films.




Needleart 1921 edging #7
Tatting - Georgia Seitz, Editor

These patterns are from the "Needleart" magazine Vol.8 #3 published in 1921 on page 17 and continued on page 68. There are seven patterns of varying degrees of difficulties. The designs are intended for underwear but today's fashions would also be enhanced on outer wear as well. More this summer.




When You Were Older Book Review
Reading - Connie Mistler Davidson, Editor

In her novel, When You Were Older, Catherine Ryan Hyde explores one man's journey through life in the post 9/11 United States. This coming of age novel delves into timeless themes that affect all of us. I read this compelling novel in one greedy gulp!




The High Cost of Smoking
Nutrition - Moss Greene, Editor

The hazardous health risk list for smokers may be much longer and more deadly than you think! So, if you smoke, here's why you should give up tobacco now.




Goan Fish Curry Recipe
Indian Food - Sadhana Ginde, Editor

Seafood plays a huge role in the typical Goan diet. Eating fish at least 1-2 times a week is both healthy & recommended for a heart smart diet. My easy & delicious Goan Fish Curry is full of bold flavors, it's always a big hit with both family & friends :-)


| Google+ |
E D I T O R R E C O M M E N D E D
The Weiser Field Guide to Cryptozoology


The Weiser Field Guide to Cryptozoology by Deena West Budd includes information, interviews, and stories about forty different cryptids seen in various places all over the world by credible eyewitnesses like policemen, rangers, and doctors. Readers will learn where and how to find flying humanoids, hairy humanoids, giants of all kinds including rabbits, bats and spiders, goblins, and vampires.
Making and Dressing Cloth Dolls


This ebook contains patterns and step by step instruction for making 5 different cloth dolls. These are some of the most popular dolls on the Doll Making Site all together in one handy book.