Beauty & Self
Books & Music
Career
Computers
Education
Family
Food & Wine
Health & Fitness
Hobbies & Crafts
Home & Garden
Money
News & Politics
Relationships
Religion & Spirituality
Sports
Travel & Culture
TV & Movies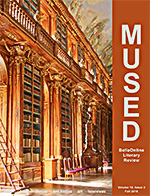 The autumn equinox, that balance point of light and dark, is closely tied to the moon. In China the Moon Festival happens around the autumn equinox, celebrating gratitude and the warmth of good friends and family. This year it was Sept 15th. Our last eclipse of 2016 was a penumbral lunar eclipse on Sept 16th. It fell in conjunction with the full harvest moon, also a symbol of thankfulness and appreciating those who care about you. The autumn equinox is a perfect time to add to those celebrations. It's a wonderful moment to treasure all we have and to share warmth with those who support us.

Autumn Equinox 2016 issue of Mused

Rams Film Review
Drama Movies - Angela K. Peterson, Editor

"Rams", set in a remote corner of Iceland, transcends cultural boundaries as it tells the story of two estranged brothers who spend forty years living side-by-side without speaking.




Are Gluten-Free Foods Better
Nutrition - Moss Greene, Editor

Gluten-free foods are all the rage, but are they the right choice for many people? Learn who should and should not be eating gluten-free foods.




Tricky Edging for Advanced Beginners
Tatting - Georgia Seitz, Editor

A Tricky Edging for Advanced Beginners. This edging appeared in the Coats & Clark Booklet #159, "Priscilla Edgings for all purposes," and is used as a teaching tool with their permission.




Haunted Story, Indiana
Paranormal - Deena Budd, Editor

The entire town of Story, Indiana is now the Story Inn. One of the guest rooms, located above an old general store, has been considered haunted for many years by the spirit of Jane Story, the wife of Dr. George Story, and known as the "Blue Lady."




Minty Thai Shrimp Curry Recipe
Indian Food - Sadhana Ginde, Editor

I am a big fan of both shrimp and Thai food - so this delicious dish was an absolute no brainer for me. It has a lovely depth of flavor combining tender, succulent shrimp with coconut milk, fresh mint and basil leaves too. Feel free to make the dish as mild or as spicy as you like.




Chantry Flats
California - Korie Beth Brown, Ph.D. , Editor

Just ten minutes out of the Los Angeles suburb of Arcadia, a new world awaits.


| Google+ |
E D I T O R R E C O M M E N D E D
Simple Delicious Italian Recipes


Simple Delicious Italian Recipes. Authentic Italian recipes easy to follow and simple to prepare, written by Cinzia Aversa, Italian Food Editor at BellaOnline.com. A perfect gift idea for any Italian food lover.
Bird by Bird by Anne Lamott


A funny, unpretentious, sympathetic look at the writing life. The section on allowing yourself to write a crappy rough draft (so you can get it done in the first place) is worth the price of the book alone.
Suzanne Somers´ Eat Great, Lose Weight


No one knows the struggle of dieting and weight loss better than Suzanne Somers. Through experimentation and countless consultations with physicians, she lays out a fool proof plan on how to eat great food and still lose weight.